Twenty-six students nominated by faculty based on criteria of leadership, initiative and creativity, and overcoming obstacles while achieving academic goals
Brendan Beebe completed his degree with a 3.6 grade point average while on active military duty, including being deployed. Carly Campbell really found herself and her voice at OCC, getting A's in several courses while giving back to her community by being a supplemental instruction leader and tutor for other students. Michael Kaddis performed at a high scholastic level in a new career field while holding a leadership position at a prominent retirement home.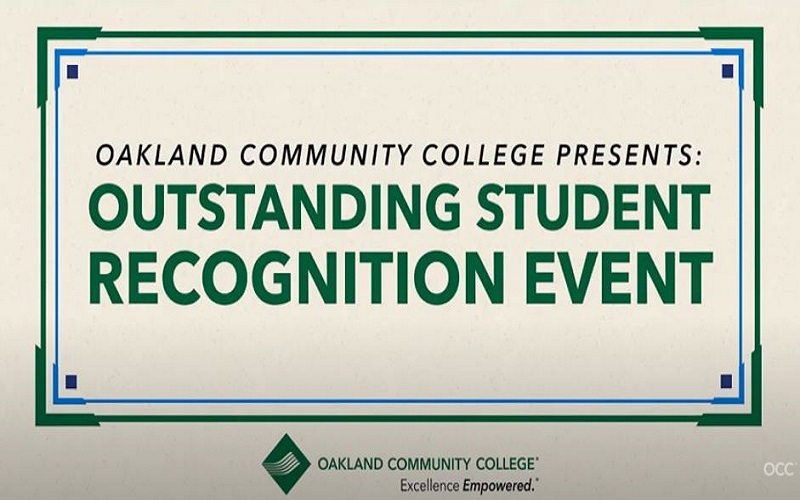 These are just three of 26 students nominated by OCC faculty for the Outstanding Student Awards Recognition Event, held virtually on April 8. During the event, nominees, family, friends and OCC employees learned about the academic and leadership achievements of these local students through the online video presentations from nominating faculty.
Faculty nominated awards are based on several criteria, including those who served as a role model for other students, showed leadership, initiative and creativity in schoolwork and overcame personal obstacles to be successful.
OCC Chancellor Peter Provenzano provided the welcome during the presentation and said the Student Awards Recognition Event is one of his favorites because it showcases the heartwarming connection between OCC faculty and students.
"We congratulate the exceptional achievements and unique attributes of our award recipients and look forward to seeing how they continue to persevere in their chosen journey," said Provenzano.
Oakland Community College congratulates the following Outstanding Student Award recipients for 2020-2021:
-Brendan Beebe, White Lake
-Terena Boone, Rochester Hills
-Tamara Brandes, Novi
-Leon Bray, Ferndale
-Thomas Bullen, Clarkston
-Carly Campbell, Walled Lake
-Russell Davis, Pontiac
-Charles Decarlo, Brownstown Township
-Larissa DeVasconcelos, Birmingham
-Sarah Gregory, Clarkston
-Nissa Griffin, Waterford
-Kristin Hardecki, Royal Oak
-Jaimy Hill, Rochester Hills
-Anna Kaczmarczyk, New Hudson
-Michael Kaddis, Rochester Hills
-Diana, Kamail, Sterling Heights
-Kayla, Kipp, Southfield
-Jeffrey Rees, Troy
-Yvonne Sanders, Pontiac
-Claire Schug, Farmington Hills
-Vendula Ulrichova, Bloomfield Hills
-Brianna Wagner, Keego Harbor
-Luke Weller, West Bloomfield
-Mia Weller, West Bloomfield
-Selena Yang, Pontiac
-Haizhen Zhan, Warren
The award ceremony is available to view on OCC's YouTube channel.
About OCC
Offering nearly 100 degrees and certificates, OCC is Michigan's largest multi, campus community college and No. 1 transfer institution in the state. The College provides academic, career training and enriching experiences, designed to empower students to reach their potential and enhance our community. More than 1 million students have enrolled in the College since it opened in 1965. A seven, person Board of Trustees governs OCC. Board members are elected on a non, partisan, at, large basis, serve as volunteers and are not paid. Mission statement: OCC is committed to empowering our students to succeed and advancing our community. Learn more at oaklandcc.edu.
###
Media Contact: Marketing & Communications | 248.341.2020 | contactus@oaklandcc.edu