$3500 available per student covers tuition and fees for their first Fall and Winter terms
Oakland Community College is offering qualifying high school seniors in Oakland County an incredible financial head start on their higher education this fall.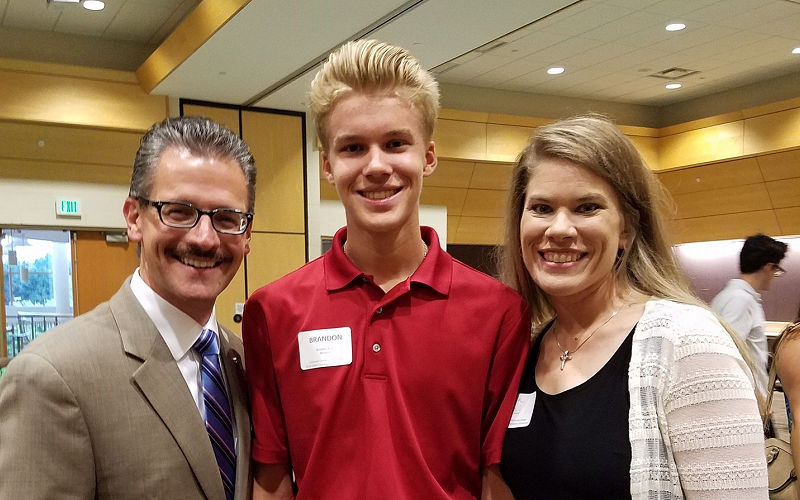 Chancellor Peter Provenzano at the 2019 Scholarship Award Ceremony
Graduating high school students considering OCC for the 2020-21 academic year are encouraged to apply for a Chancellor's Scholarship, which helps 100 incoming, qualified students with a $3,500 award ($1,750 for the fall semester and $1,750 for the winter semester). The scholarship value covers full tuition and fees for the student's first academic year beginning Fall Term, 2020.
To qualify, students must be a high school senior graduating from a public, private, charter or home school program in Oakland County this spring with a grade point average (GPA) of 3.6 to 4.0 and a minimum SAT score of 1200 or a minimum ACT score of 25. Adult and alternative public or private graduating high school students in Oakland County can also qualify with a GPA of 2.5 or higher.
"I am honored to again offer this scholarship to our Oakland County students because it helps to reduce the financial barrier that often limits students from achieving their dream of a college education," said OCC Chancellor Peter Provenzano. "I received a scholarship toward college and recognize the difference that it made in my life, and want to give that same opportunity to this year's class of high school seniors."
The application deadline is May 1, 2020. Recipients must attend OCC at least full time (12 credit hours minimum) for both fall and winter semesters. If the student does not attend classes, the scholarship is forfeited.
Eligibility criteria and applications are available online at Chancellor's Scholarships.
About OCC
Offering nearly 100 degrees and certificates, OCC is Michigan's largest multi-campus community college and No. 1 transfer institution in the state. The College provides academic, career training and enriching experiences, designed to empower students to reach their potential and enhance our community. More than 1 million students have enrolled in the College since it opened in 1965. A seven-person Board of Trustees governs OCC. Board members are elected on a non-partisan, at-large basis, serve as volunteers and are not paid. Mission statement: OCC is committed to empowering our students to succeed and advancing our community. Learn more at oaklandcc.edu.
Media Contact: OCC Marketing & Communications | 248.341.2020 | contactus@oaklandcc.edu