The first-ever OCC virtual commencement capped a year of precedents for the class of 2020. Undeterred by a pandemic, societal unrest and the sudden move from classroom to virtual coursework, 1,978 graduates forged on to complete their programs and participated in one of the most unique commencement ceremonies in OCC's history.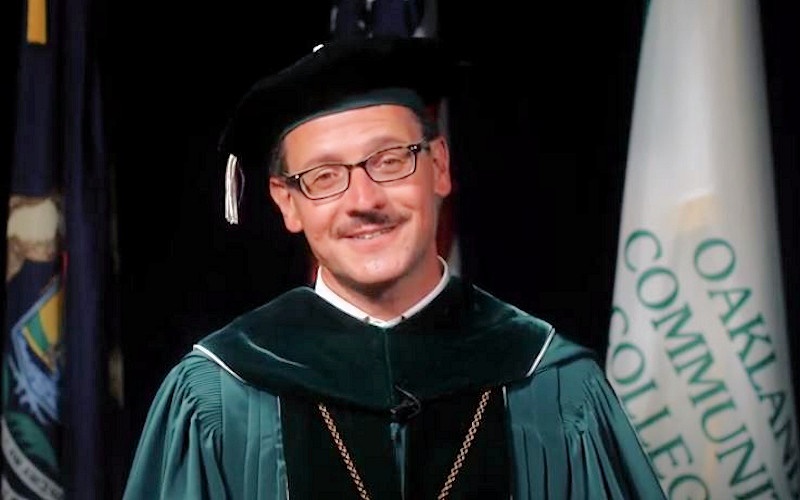 OCC Chancellor Peter Provenzano, Jr. delivers his "virtual" commencement message to graduating students
"While this year has been unlike any other, what has remained is your determination to achieve at the highest levels. You are stronger and wiser because of the difficulties you overcame. We applaud your grit and willpower to earn your degree despite the odds. The courage and commitment you demonstrated was astonishing," said Peter M. Provenzano Jr., OCC Chancellor. "Although we can't be together to celebrate in person, caps can still fly, tears of joy can still be shed, and we can definitely celebrate."
Livestreamed Saturday, Aug. 8, the special event featured taped messages and photos from graduates, a recognition clip for each student as part of the roll call procession, a collaborative student address, remarks from OCC faculty and staff, and a special keynote address. OCC Alumna Nelisway Dorsey, who now attends the University of Michigan, sang the National Anthem to kick off the celebration.
OCC surprised graduates pre-ceremony with a special "Grad Box" that included a cap and tassel, commencement program, diploma cover, OCC swag and more. Graduates could also order a gown and other graduation memorabilia from the OCC Bookstore.
"It was such a surprise to find the Grad Box in the mail. It was a very thoughtful and a great way to celebrate my time at OCC. I appreciated everything in the box, and I thought it was a funny nod to the times to include the OCC bandana and hand sanitizer," said Shannon Gillis, Business Administration graduate. "I also found the video with 10 graduates speaking from five different campuses innovative, and representative of how COVID-19 may have separated us from campus, but not from each other. We are still a united, unstoppable force."
Glenn McIntosh, Senior Vice President for Student Affairs & Chief Diversity Officer at Oakland University delivered the keynote address, lauding the students for their exceptional ability to persist with a purpose. He challenged graduates "to use your education to bring yourself up and raise yourself higher" and to "stand up, stand out and stand above."
Students and family members livestreamed one or more of the ceremonies customized to graduates from the Arts & Communications; Science, Health Sciences & Human Services; Business, Management, Marketing, Technology, and Engineering, Manufacturing & industrial Technology; and General Studies programs. The commencement ceremonies remain available for viewing at https://oaklandcc.edu/commencement/default.aspx.
"At no other time have our graduates faced such monumental challenges as those posed by the global pandemic, but you rose to the challenge. You seized the opportunity and learned a great deal personally and educationally through this crisis. We are immensely proud of each and every one of you," said Provenzano. "If you can overcome a global pandemic, nothing stands in your way! Good luck and we wish you all the best in your future endeavors."
About OCC
Offering nearly 100 degrees and certificates, OCC is Michigan's largest multi-campus community college and No. 1 transfer institution in the state. The College provides academic, career training and enriching experiences, designed to empower students to reach their potential and enhance our community. More than 1 million students have enrolled in the College since it opened in 1965. A seven-person Board of Trustees governs OCC. Board members are elected on a non-partisan, at-large basis, serve as volunteers and are not paid. Mission statement: OCC is committed to empowering our students to succeed and advancing our community. Learn more at oaklandcc.edu.
###
Media Contact: OCC Marketing & Communications | 248.341.2020 | contactus@oaklandcc.edu