Zoom Sessions Scheduled Week of January 4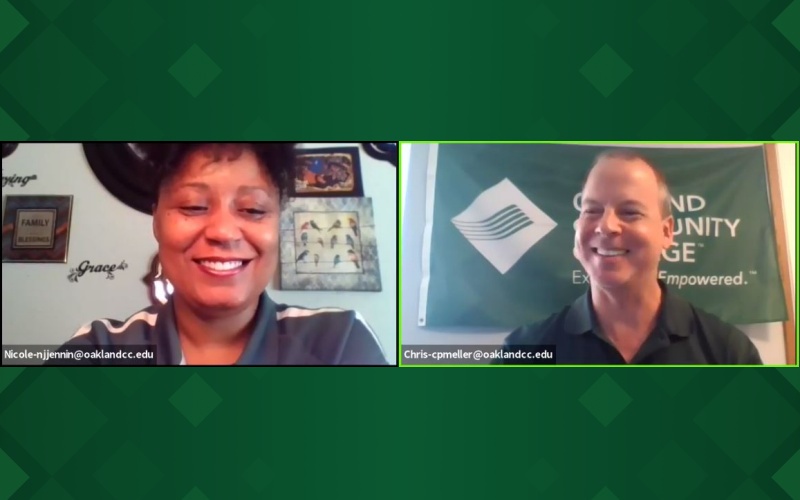 Admission Coordinators Nicole Jennings and Chris Meller during a Zoom Admission event.
Interested in taking classes at OCC this Winter? There is still time to register! Prospective students with questions about the college application and pre-registration process are invited to join OCC over a virtual cup of coffee and drop in for "Coffee with an Admissions Coordinator" Zoom sessions scheduled for the week of January 4.
"The sessions are intended to help students during final registration for winter. We hosted a similar call series last fall, and it was quite successful," said Chris Meller, OCC Admissions Coordinator, Highland Lakes. Joining Meller on the calls will be Admission Coordinators Nicole Jennings, Keith Pawlovich and Misty Pranga.
Students can register for the "Coffee with an OCC Admissions Coordinator" session at http://bit.ly/occcoffee. The Zoom session schedule is:
• Jan 4th- 11a.m.-2 p.m.
• Jan 5th- 11 a.m.-2 p.m.
• Jan 6th- 11 a.m.-6 p.m.
• Jan 7th- 11 a.m.-6 p.m.
• Jan 8th- 11 a.m.-2 p.m.
"It wasn't that long ago OCC Admissions reps each visited more than 60 high schools during the academic year, answering student and parent questions and conducting live admissions. COVID-19 has changed that, and we now leverage a variety of social media and technological options to help students navigate financial aid, placement testing, counseling, class registration, stay safe college options and other topics relevant to the OCC admissions process," said Meller.
For more information about OCC Admissions, visit https://oaklandcc.edu/admissions/default.aspx.
About OCC
Offering nearly 100 degrees and certificates, OCC is Michigan's largest multi-campus community college and No. 1 transfer institution in the state. The College provides academic, career training and enriching experiences, designed to empower students to reach their potential and enhance our community. More than 1 million students have enrolled in the College since it opened in 1965. A seven-person Board of Trustees governs OCC. Board members are elected on a non-partisan, at-large basis, serve as volunteers and are not paid. Mission statement: OCC is committed to empowering our students to succeed and advancing our community. Learn more at oaklandcc.edu.
###
Media Contact: Marketing & Communications | 248.341.2020 | contactus@oaklandcc.edu