Digital platforms offer real-time connections with next generation of students
In the 'good old days' of pre-COVID 19, visiting high schools and talking with students about college admissions was the norm. In fact, on average, OCC Admissions reps each visited more than 60 high schools during the academic year building relationships and awareness, answering student and parent questions and conducting live admissions, all on site.
Then March hit.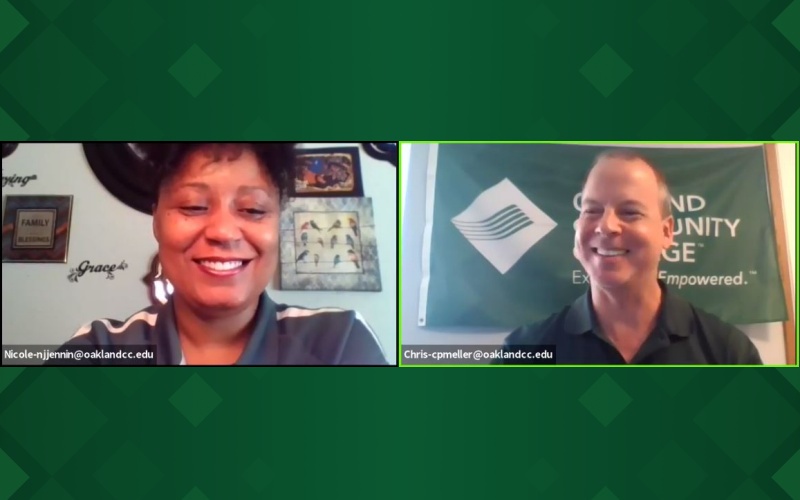 Admissions Coordinators Nicole Jennings (l) and Chris Meller during a Facebook Live event.
As did the onslaught of questions prospective students and their parents had regarding admissions, financial aid and registration for classes. And, the growing need for assurances from trusted sources on stay home, stay safe college options.
OCC's Admissions team quickly adapted. Their goal: continue to build personal and trusted connections, support prospects students in a social distancing world, and stabilize enrollment. They moved quickly to digital platforms such as Zoom and Facebook Live. The new "normal" to connecting with high school digital natives.
Admissions Coordinator Nicole Jennings and her counterpart, Chris Meller, initiated a regular cadence of Facebook Live events where students could get answers and connections to everything from the application process to financial aid, placement testing, registration, counseling and the many other topics relevant to the admissions process. The team is also bringing in other OCC experts such as counseling to help provide more information for students.
Jennings shares the response from students has been tremendous. "We plan to continue these events through July and possibly through the fall enrollment period to help incoming students."
In addition, Admissions is also offering Virtual Live Admissions using private Zoom sessions.
During these 60-minute sessions, students in groups of seven or fewer,
Complete an application and receive their OCC student id number
Activate their MyOCC account and student emai
Login to Online Orientation and receive pro-tips how to complete independently
Prepare for mandatory English placement or provide documentation of exemption (ex: SAT scores)
Learn how to schedule a virtual counseling session and satisfy mandatory counseling
"We have had very positive reactions to these events," said Meller. "Our goal for Live Admissions is to have at least one event for 40 schools in our district."
Admission coordinators have also been regularly emailing with high school counselors to stay in touch while they work from home as well.
Connecting students with students.
In addition, a new group of student recruiters began orientation this month.
"We find that providing potential students with a direct link to student recruiters has been a real benefit for us, because they often feel more comfortable connecting with their peers to get their questions answered," said Laurie Huber, Director of Admissions.
The student recruiters will also use their social media channels to connect with potential students.
Digital admissions programs are working to get students the answers they need.
"We have several virtual initiatives currently under development including webinars, website updates, and more," said Keith Pawlovich, Admissions Coordinator. He also noted that LIVE Admissions enabled OCC to further personalize the onboarding experience and transitioned smoothly to the virtual environment.
Melissa Tilley, OCC's Digital Strategist, has seen a shift in reliance on these types of digital events due to the recent pandemic.
"As we've had to close our physical doors due to COVID-19, our students have come to rely even greater on social media and digital events as a source of information and connection," she said. "Using these tools to provide admissions information really taps into a communication shift with this generation of students and is as another way for us to feel close to one another even when we're physically distanced."
For more information about OCC Admissions visit https://oaklandcc.edu/admissions/default.aspx.
About OCC
Offering nearly 100 degrees and certificates, OCC is Michigan's largest multi-campus community college and No. 1 transfer institution in the state. The College provides academic, career training and enriching experiences, designed to empower students to reach their potential and enhance our community. More than 1 million students have enrolled in the College since it opened in 1965. A seven-person Board of Trustees governs OCC. Board members are elected on a non-partisan, at-large basis, serve as volunteers and are not paid. Mission statement: OCC is committed to empowering our students to succeed and advancing our community. Learn more at oaklandcc.edu.
###
Media Contact: OCC Marketing & Communications | 248.341.2020 | contactus@oaklandcc.edu