See the play that made Arthur Miller famous — before "Death of a Salesman"
A newspaper story about fraud amid the "Arsenal of Democracy" inspired a Tony Award winner
Performances run Nov. 1-2 and Nov. 8-9 at OCC's Royal Oak Lila Jones-Johnson Theater
OAKLAND COUNTY, Michigan – Between his first play — "The Man Who Had All the Luck," which had no luck whatsoever and closed after four performances — and his third play — "Death of a Salesman," which won him a Tony Award and a Pulitzer Prize and made him a permanent cast member of Broadway's iconography — Arthur Miller wrote "All My Sons."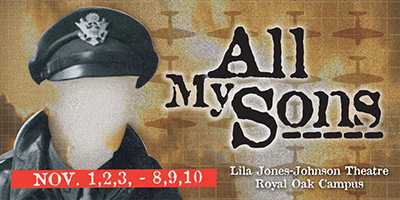 The 1947 play, which Miller began work on in 1941, gave life to a playwright, earning Miller his first Tony along with the New York Drama Critics Award for Best Play.
And now Oakland Community College Theatre Programs, under the direction of faculty member Dennis North, are bringing it to life in a series of performances next month on the stage of the Lila Jones-Johnson Theatre on OCC's Royal Oak campus.
"All My Sons" is based on a true story that Miller's then-mother-in-law found in an Ohio newspaper. The report about U.S. Army inspectors approving defective aircraft engines — bureaucracy gone bad — improbably inspired a three-act play that explores guilt, lies and deception during a time when postwar society was just starting to assemble the American Dream. Or as Miller described his work, "a very depressing play in a time of great optimism."
Performances of "All My Sons" are scheduled for 8 p.m. Thursday and Friday, Nov. 1-2 and Nov. 8-9, and 2 p.m. Saturday, Nov. 3 and 10. Tickets are $15 for general admission and $5 for students and seniors age 62 and older.
Tickets are available online or on the day of the performance at the box office of the Lila Jones-Johnson Theatre, 739 S. Washington in Royal Oak. Tickets also can be reserved by calling 248-522-3666.
The theater program at OCC offers an associate in arts degree with a concentration in theater. This program includes performance and the technical aspects of theater, including theory and practical experience. Upon completion of the program, students will be prepared to pursue a bachelor's degree in theater, enter a specialized school of acting or enter the professional entertainment industry.
About OCC
With multi campus system in Oakland County, OCC is Michigan's No. 1 transfer institution, offering nearly 100 degrees and certificates. The College empowers academic and developmental experiences, allowing students to reach their potential and enhance their communities. More than 1 million students have enrolled in the college since it opened in 1965. A seven-person Board of Trustees governs OCC. Board members are elected on a non-partisan, at-large basis, serve as volunteers and are not paid. Learn more at oaklandcc.edu.
###
Media Contact: Marketing & Community Relations | 248.341.2020 | contactus@oaklandcc.edu