OCC is the Only Community College in Metro Detroit Using State-of-the-Art System
Groundbreaking digital technology to study human anatomy and physiology used by medical schools and other institutions of higher learning will soon be available to students at Oakland Community College.
OCC's Science Department has recently acquired a technologically advanced 3D visualization system called Anatomage Table, which allows for exploration and learning of human anatomy exactly as students would see using a real cadaver.
The technology allows students to visualize what is beneath their own skin by featuring life-size digital replicas of humans. Students in class can rotate, cross-section and animate to learn how the various body systems and processes work.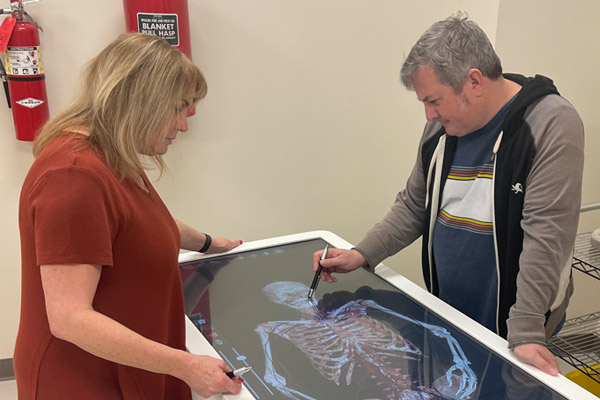 Mary Eichold (left), material specialist in the science department, explains how the anatomage table works to Bill Konkolesky, a paraprofessional in the ASC.
Taking a virtual trip inside the body
Mary Eichold, material specialist in OCC's science department, explained this new technology offers exciting interactive learning that will help health sciences students studying in OCC programs such as respiratory, radiology, surgical technology and ultrasound, gain a more in-depth understanding of the human anatomy.
"You can look at the structures statically or turn on live mode and watch the heart beating and blood flow through the body. You can even perform dissections of the body or surgeries," she said. "The table can also be used in virtual reality mode, meaning the student can use a headset like an Oculus and be fully immersed in a virtual experience."
Eichold said the learning tool is interactive and accessible making it perfectly aligned with the future of education in the digital learning environment.
"The table also offers closed captioning for students with special needs. All students can connect through tablets and Zoom and learn remotely while faculty are teaching at the table," she said. "Instructors can also make quizzes on the table or use preloaded quizzes...the possibilities for student learning are amazing." 
A double tap away from seeing each artery, bone, or organ
OCC Health Professions paraprofessional Kim Robbins, commented that instead of using models and 2D images that are limited in scope, students can interact with the body in its entirety, specific body systems, or single organs to visualize them in 3D.
"The table encourages students to explore beyond what they see in their textbooks with up-to-date intra-disciplinary images," said Robbins. "With the ability to use a virtual dissection tool for accurate human anatomy views, this is a game changer for our students!" she added.
The Anatomage Table offers a number of applications in addition to digital cadavers to enhance student learning, including lab activities virtual dissection, physiology simulation and pathology examination.
 The technology is expected to be available in classes on a limited basis in winter 2023 with expanded use by the summer of 2023.
About OCC
Offering nearly 100 degrees and certificates, OCC is Michigan's largest multi-campus community college and one of the top transfer institutions in the state. The College provides academic, career training and enriching experiences, designed to empower students to reach their potential and enhance our community. More than 1 million students have enrolled in the College since it opened in 1965. A seven-person Board of Trustees governs OCC. Board members are elected on a non-partisan, at-large basis, serve as volunteers and are not paid. Mission statement: OCC is committed to empowering our students to succeed and advancing our community. Learn more at oaklandcc.edu.
### 
Media Contact: Marketing & Communications | 248.341.2020 | contactus@oaklandcc.edu