Throughout the month of April, part of Oakland Community College's (OCC) Auburn Hills campus was transformed into a gallery of talent and imagination. All art on display – including drawing, painting, photography, jewelry, sculpture, ceramics and design – was created by students for OCC's Student Art Exhibition.
Organized by art faculty to highlight their students' impressive artwork, the juried, multidisciplinary exhibition was the College's first event of its kind. Current OCC students were eligible to submit their work, which must have been created in an OCC art class within the past year. Juror Michael Neville, an artist and designer currently living in Hamtramck, evaluated all submissions for awards.
"This event is another example of OCC's commitment to the arts and our art students. The student exhibition complements our partnership with the DIA's renowned artist exhibits at OCC through the Inside Out program," said OCC Chancellor Peter Provenzano. "Thank you to organizer Lindsey Dezman and all of the art faculty who worked hard to launch OCC's first juried art show."
Ten OCC student artists received cash prizes for their work during a reception and awards ceremony on Thursday, April 28 at the Auburn Hills campus. The Kegham Tazian Art Prize Fund, DeRoy Testamentary Foundation and OCC's Office of Diversity, Equity, Inclusion, and Justice provided generous funding for the prizes.
Prizes were awarded as follows: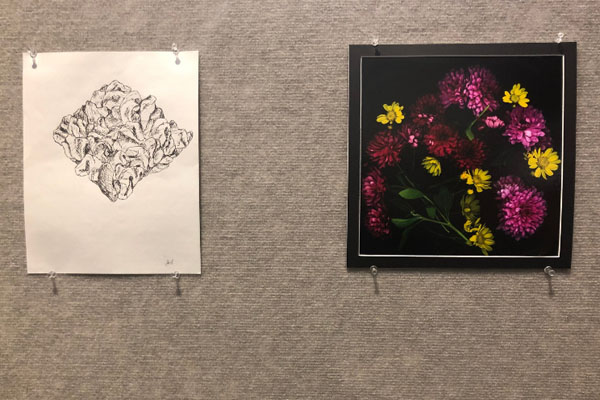 Kegham Tazian Best in Show: April Walker, "The Drop"
Best of Jewelry: Brianna Hayes, "Renewal"
Best of Design: Caithleann Newell, "Paper T-Rex"
Best of Drawing: David Wilhelm, "Beef"
Best of Photography: Erin Defever, "Inpatient"
Honorable Mention: Justin Duff, "Dahlias and Wedelias"
DEIJ Social Justice: Lydia Martin, "Blooming Blue"
Best of Ceramics: Mary Prybys, "Ocean Marble Sake Set"
Best of Painting: Regina James, "Lemon Water"
Best of Sculpture: Roger Meeker, "Bronze Lady"
Faculty efforts to organize the art exhibition, combined with students' demonstrable talent, culminated in an exciting event for all attendees.
###
About OCC 
Offering nearly 100 degrees and certificates, OCC is Michigan's largest multi-campus community college and No. 1 transfer institution in the state. The College provides academic, career training and enriching experiences, designed to empower students to reach their potential and enhance our community. More than 1 million students have enrolled in the College since it opened in 1965. A seven-person Board of Trustees governs OCC. Board members are elected on a non-partisan, at-large basis, serve as volunteers and are not paid. Mission statement: OCC is committed to empowering our students to succeed and advancing our community. Learn more at oaklandcc.edu. 
Media Contact: Marketing & Communications | 248.341.2020 contactus@oaklandcc.edu