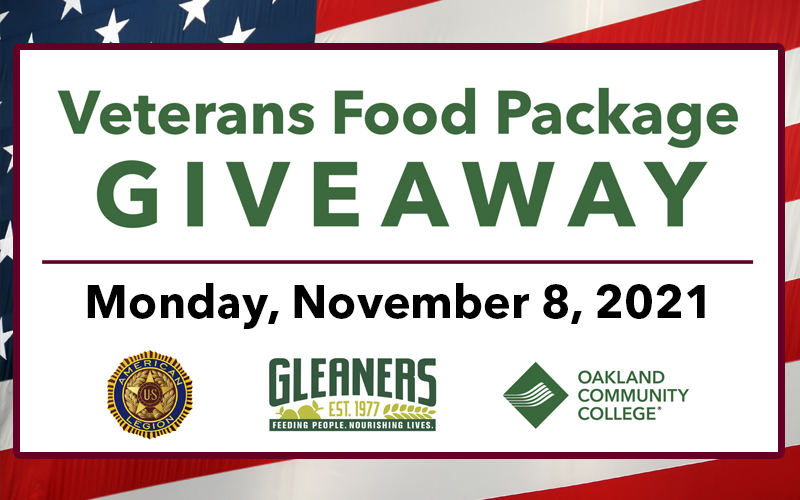 Free food packages for all veterans, military and service families and community members in need will be distributed at OCC's Auburn Hills campus on Nov. 8 from 10 a.m. to 1 pm.
The Veterans Food Package Giveaway is hosted by OCC's Student Veterans of America, in coordination with Gleaners and the American Legion William H. Campbell Post #25.
"We want to show our appreciation to our veterans and military community for their service and sacrifice. The food giveaway is also for all in need," said Jeff Arnold, OCC's Veterans Coordinator.
Food packages will be available at Parking Lot #1 on OCC's Auburn Hills campus at 2900 Featherstone Road while supplies last.
To register, contact OCC's Veterans Services at 248.232.4342 or online at https://tinyurl.com/vetsfoodgiveaway.
###
About OCC
Offering nearly 100 degrees and certificates, OCC is Michigan's largest multi-campus community college and No. 1 transfer institution in the state. The College provides academic, career training and enriching experiences, designed to empower students to reach their potential and enhance our community. More than 1 million students have enrolled in the College since it opened in 1965. A seven-person Board of Trustees governs OCC. Board members are elected on a non-partisan, at-large basis, serve as volunteers and are not paid. Mission statement: OCC is committed to empowering our students to succeed and advancing our community. Learn more at oaklandcc.edu.
Media Contact: Marketing & Communications | 248.341.2020 | contactus@oaklandcc.edu