Hard work and dedication paid off for 155 students in this year's American Mathematical Association of Two-Year Colleges (AMATYC) Student Math League, earning Oakland Community College (OCC) sixth place in the U.S. for math excellence.
OCC math students earned top spot in the Midwest region and sixth place overall in the fall and spring rounds of the national competition. The two-part Student Mathematics League is enjoyed by close to 200 colleges and thousands of students each year.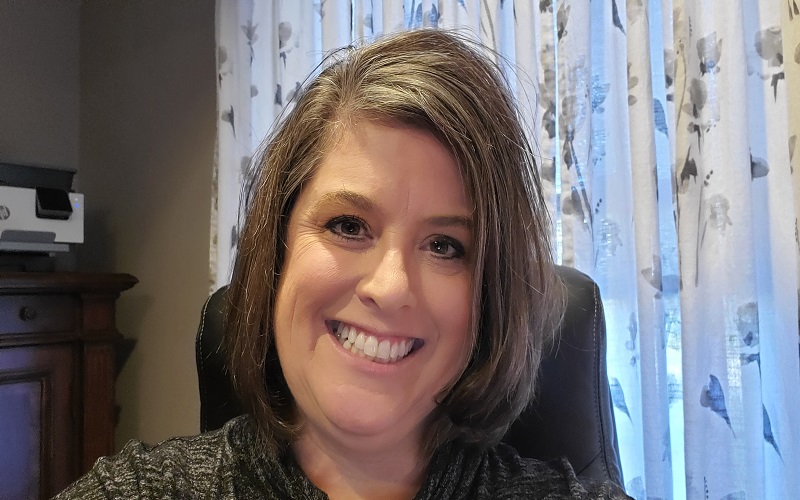 OCC Math faculty Julie Gunkelman
Mathematics faculty member and math league facilitator Julie Gunkelman said, "The problems on the exam are very challenging which gets our students to really think. It creates a place for the mathematically inclined to truly shine like we did this year."
Students compete both as individuals and as a member of a team representing their school. A total of 155 OCC participated with 78 taking the fall exam, 64 taking the winter exam and 13 students taking both exams this academic year.
Students individually take a one-hour, 20-question multiple choice exam which contains some nonstandard challenging questions to test their problem-solving skills and see how they compare to others from around the nation.
Gunkelman said that any OCC student is eligible to participate, however, only students that do not have a degree from anywhere in the world may compete for the OCC team score. Fliers containing the test date and a QR code to register are posted on campus and available to math faculty college wide.
"Students can always ask their math instructors for the information if they don't see a flier posted on campus," Gunkelman said.
Although Gunkelman coordinates the league test for the college, she says it's a team effort involving several faculty.
"Jeff Parent, Tanya Reynolds, Dave Nosanchuk, Dan Puig-Pey and Linda Britton help me proctor the exam with several other faculty members routinely assisting as well. Most of our math instructors also encourage students to take the exams and give a little extra credit for doing so."  
Jeff Parent, mathematics faculty, said scholarship opportunities are also available for Math League participants who score well on the exam through the Scott Vance Memorial Math Scholarship. Vance was a student, tutor and supplemental instructor at OCC in the Math department.
"The scholarship celebrates the life of Scott Vance who was taken from us too early. Scott had more enthusiasm for math than any other student I've had in 29 years at OCC," said Parent.
"Scott was my S.I.  (supplemental instructor) for years here at OCC and was so good and in demand that I had to 'book' him six months in advance to make sure he would take care of my classes. We use the math league competition as a way to choose someone who is talented in math and has enthusiasm for it, much in the same way Scott was," he adds.
For further information on the scholarship visit Scott Vance Memorial Math Scholarship.
###
About OCC
Offering nearly 100 degrees and certificates, OCC is Michigan's largest multi-campus community college and one of the top transfer institutions in the state. The College provides academic, career training and enriching experiences, designed to empower students to reach their potential and enhance our community. More than 1 million students have enrolled in the College since it opened in 1965. A seven-person Board of Trustees governs OCC. Board members are elected on a non-partisan, at-large basis, serve as volunteers and are not paid. Mission statement: OCC is committed to empowering our students to succeed and advancing our community. Learn more at oaklandcc.edu. 
 
Media Contact: Marketing & Communications | 248.341.2020 | contactus@oaklandcc.edu