During the pandemic, Nelson McDonald lost his job, apartment and car all in the same year. If it weren't for The Garden Party Vocational Scholarship, the OCC student would not have been able to continue taking classes at the College and pursue an associate's degree in Computer Information Systems.
To help students like McDonald, this year the Oakland Community College Foundation raised $240,910 through The Garden Party - the highest amount in the history of TGP in spite of not holding the event. The Garden Party Foundation committed $100,000 as a dollar-for-dollar challenge match and sponsors and donors contributed $140,910 in response.
For McDonald, the scholarship allowed him to maintain consistent enrollment. Finances have always been a struggle for the 32-year-old Royal Oak resident.
"This scholarship is truly a blessing for me," McDonald said. "The scholarship not only will help me financially but helps solidify in my mind and to my peers that dedication and sticking to your goals can help create great opportunities for us. That even when you are at your lowest, when people give you a chance you can succeed."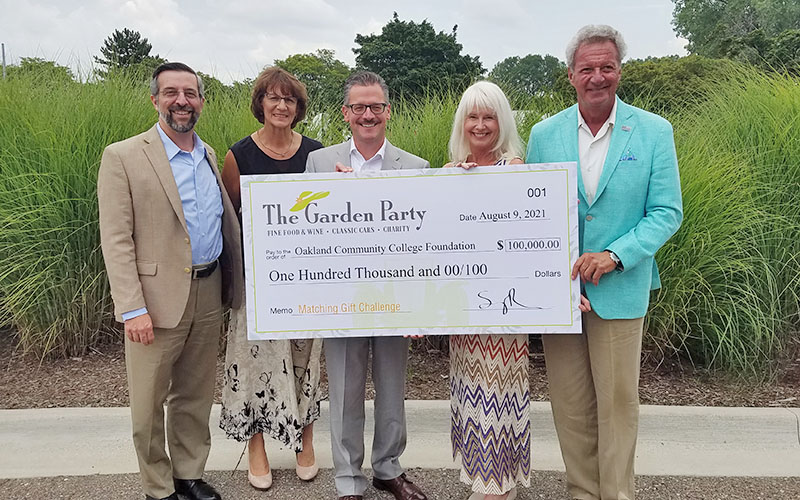 The Oakland Community College Foundation received a $100,000 check from The Garden Party Foundation. Pictured above are Daniel Jenuwine, Vice Chancellor for Advancement, OCC and Executive Director, OCC Foundation; Sue Ann Wessel, Controller, Great Lakes Wine & Spirits; Peter Provenzano, Chancellor, OCC; Elizabeth Ross, co-Founder, The Garden Party Foundation; and Sydney Ross, co-Founder, The Garden Party Foundation and co-CEO, Great Lakes Wine & Spirits.
The Garden Party, one of the region's premier fundraising events, will return on Sunday, June 12, 2022. Proceeds from the event provide professional trade scholarships to disadvantaged young adults and ensure students attain professional skills, empowering them to achieve self-sufficiency. The OCC Foundation has awarded more than 650 TGP scholarships to more than 450 students since the first event in 2009, with some students receiving the scholarship in consecutive years.
"The Garden Party is a great event for a great cause," OCC Vice Chancellor for Advancement Daniel Jenuwine said. "With support from our event sponsors and donors, our trades students graduate into careers that serve all of us and meet the demand for well-trained talent."
Proceeds from The Garden Party events and contributions to TGP Vocational Scholarship Fund since 2009 have surpassed $980,000 in total. This includes more than $834,000 given by The Garden Party Foundation, making it the largest cumulative donor to the OCC Foundation.
"The Garden Party Vocational Scholarship is a true path to self-sufficiency," said Syd Ross, Co-Founder with his wife Elizabeth of The Garden Party and Co-CEO with Lewis Cooper III of Great Lakes Wine & Spirits. "This year we issued a $100,000 matching gift challenge. It was a great way to get more people involved and engaged in a different way, and I think it will help us be more successful next year when we return to The Garden Party event. One of the things I like about OCC is they have continually stepped up to the plate and helped raise their own money."
This year, Kelly Services ranked as the top sponsor with its Jeroboam-level contribution. The seven-member OCC Board of Trustees were notable among the Magnum-level sponsors, which also included the Celani Family Foundation, Dickinson Wright, Huntington Bank, Integrated Design Solutions, Ryder, the Tyranski and Totonchi Group, UHY and Wilson Rode. Check out our other sponsors.​​​​​​​
The Garden Party Vocational Scholarships benefit students in OCC's professional trades programs including Computer Information Systems; Engineering, Manufacturing & Industrial Technology programs; Nursing and other Health Sciences programs; Culinary Studies; and First-Responder programs and academies. Current students can apply online through Scholarship Universe.
###
About OCC
Offering nearly 100 degrees and certificates, OCC is Michigan's largest multi-campus community college and No. 1 transfer institution in the state. The College provides academic, career training and enriching experiences, designed to empower students to reach their potential and enhance our community. More than 1 million students have enrolled in the College since it opened in 1965. A seven-person Board of Trustees governs OCC. Board members are elected on a non-partisan, at-large basis, serve as volunteers and are not paid. Mission statement: OCC is committed to empowering our students to succeed and advancing our community. Learn more at oaklandcc.edu.
Media Contact: Marketing & Communications | 248.341.2020 | contactus@oaklandcc.edu