Student Learning Assessment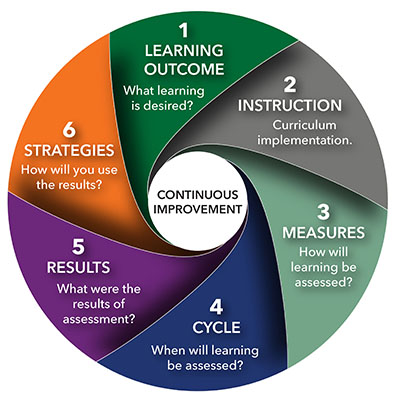 Assessment is the continuous process of collecting, analyzing, and utilizing data to understand and improve student learning. Assessment serves as a tool for educators to improve curriculum and instruction. Assessment ensures consistent learning expectations apply to all programs, courses, general education, and co-curricular areas of the College. It is also a critical component of Institutional Effectiveness, and a requirement of the Higher Learning Commission (HLC) and other accrediting or external standard-setting bodies. Finally, assessment demonstrates OCC's high academic standards to students, transfer institutions, employers, and other stakeholders.
Faculty develop assessment plans to measure student learning on developed learning outcomes. Plans for each outcome include a specific benchmark (learning targets), assessment method, and an assessment frequency. Benchmarks identify the proportion of students expected to demonstrate competency at a specific level (e.g., 80% of students will score at least 4 out of 5 points on the writing rubric). Assessment methods identify the method used to evaluate student learning (e.g., rubrics, exams, papers, activities, etc). Finally, faculty choose how often they will assess student learning on each outcome (i.e., every one, two, or three years). After assessment plans are complete, faculty and administration manage student learning assessment data through the Assessment Results Tracking Information System (ARTIS).