OAKLAND COUNTY, Michigan - On November 15, students in the OCC Culinary Studies Program faced off in a "Chopped"-style contest to create tasty and original recipes for both sweet and savory dishes using the secret ingredient – pastry puffs. Top winners were awarded $250 Visa gift cards.
Aspiring chefs stretched their imaginations and the end result was delectable. The savory top honor went to an Indian-style dish, which also had the highest overall score of the entire competition. It contained a tasty lentil filling and was topped with chutney and puffed rice, redolent of Indian street food. The top sweet category winner emerged with a tiebreaker vote, handing victory to an apple parfait with pastry puffs built into the base.
Other contestant dishes included two desserts: an apple bourbon bread pudding and a pastry with sweet goat cheese and a pomegranate sauce, followed by savory dishes: an appetizer of beef tenderloin with caramelized onion and a gourmet BLT. Five judges, including Kontos Foods Corporate Executive Chef Demetrios Haralambatos, and Chef Susan Baier, FMP, Program Coordinator OCC's Culinary Studies Institute, rated the food on a 25-point scale based on the following criteria: taste, creativity, presentation and practicality.
The winners were: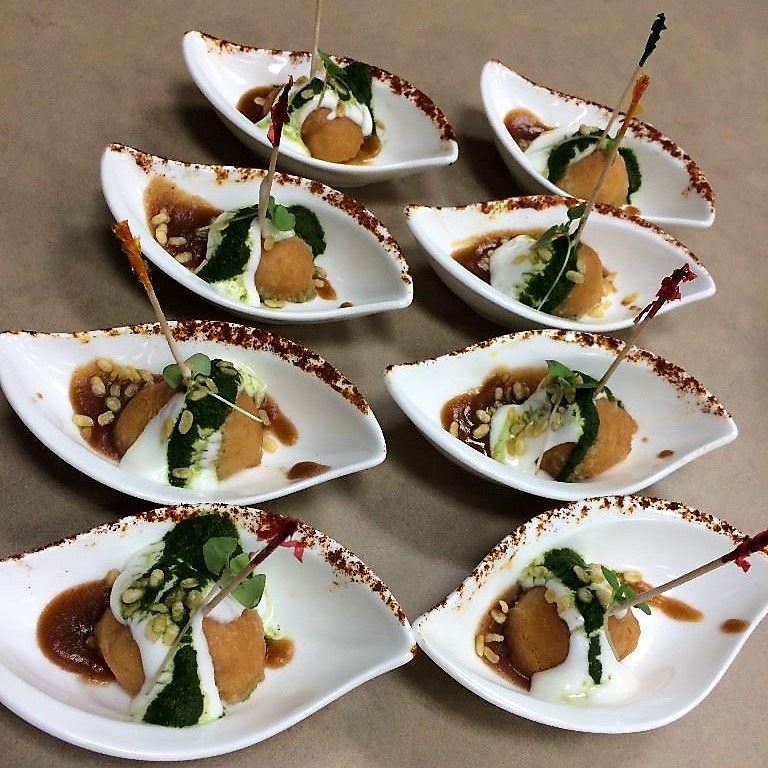 Sweet Category
First: Charles Moceri
Second: Jennifer Day
Third: Barbara Nunnold
Savory Category
First: Hariprasad Dhatchinamoorthy*
Second: Laura Carruthers & Austin Leake
Third: Ebony Reed & Jennifer Considine
*Top overall score
"The Chef instructors first and foremost want to thank 'Kontos for the opportunity to challenge the knowledge and skills of their students in training. Competitions are not only good for the creativity factor, but they also provide a means to put aside their egos and take constructive critiques, a necessary feat in our industry," said Chef Baier. "Taking this traditional but very unique product and challenging the student to 'recreate it into something new' has been an experience for both the student and chef instructor. The 'volunteer' students have put time and thought into this challenge, all with very different results. We are proud of their efforts and believe some of their ideas are very practical and may be very possibly utilized in the workplace."
"The students duly impressed me with their excellence and creativity," added Chef Haralambatos. "Their attention to detail and flavor combinations resulted in some outstanding dishes."
About Kontos Foods - Kontos Foods, Inc., a U.S.-based manufacturer of traditional Greek and Mediterranean foods, sponsored the event, which was held at the Orchard Ridge Campus and culminated with a monthly meeting of the Michigan Chefs de Cuisine, the Michigan chapter of the American Culinary Federation.
About OCC - With multi campus system throughout Oakland County, OCC offers degrees and certificates in approximately 100 career fields as well as university transfer degrees in business, science and liberal arts. The College provides academic and developmental experiences allowing each student to reach their full potential and enhance the communities they serve. More than 45,000 students annually attend OCC; more than a million students have enrolled in the College since it opened in 1965. Learn more at oaklandcc.edu.
###
Media Contact: Marketing & Community Relations | (248) 341-2020 | contactus@oaklandcc.edu