OAKLAND COUNTY, Michigan – Coming from a small high school, the size of a college campus initially overwhelmed health science student Abby Passalacqua. But as she learned, all communities — large or small — are just people who, if you give them a chance, are there to help.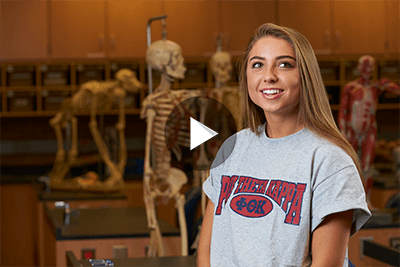 "I came to OCC because of the programs and the smaller class sizes," Passalacqua said. "My first day, I was really nervous."
"Once I got settled into the room, my instructor was super-kind and accommodating. The other students were kind and friendly, and so very quickly all the nerves dissipated, and I was very comfortable.
"I find everything that you can be involved in so excellent at OCC," said Passalacqua, who is a member of Phi Theta Kappa. "My best advice for incoming students is, 'get involved'."
Be it athletics, student organizations or Phi Theta Kappa, OCC has many opportunities for students to embrace Passalacqua's advice. Involvement enhances the college experience. Students who are engaged in extracurricular activities have greater opportunities for networking, career growth, enhanced academic and leadership development — and, greater success overall.
"My experience has been so much greater," Passalacqua said. "I feel much more involved, much more at home with what I'm doing."
To hear more about Passalacqua's story, visit OCC's YouTube channel.
About OCC - With multi campus system in Oakland County, OCC is Michigan's No. 1 transfer institution, offering nearly 100 degrees and certificates. The College empowers academic and developmental experiences, allowing students to reach their potential and enhance their communities. More than 1 million students have enrolled in the college since it opened in 1965. Learn more at oaklandcc.edu.
###
Media Contact: Marketing & Community Relations | 248.341.2020 | contactus@oaklandcc.edu