OAKLAND COUNTY, Michigan – When nursing student and Farmington Hills resident, Ana Pancevska decided saving lives was her calling in life, OCC was her top pick for training.
The Oakland Community College nursing program is one of the largest and most affordable associate-degree nursing programs in the nation. Through excellent hospital and health care partnerships, students receive an exceptional variety of clinical experiences, including rotations at William Beaumont and Detroit Medical Center hospitals.
"Th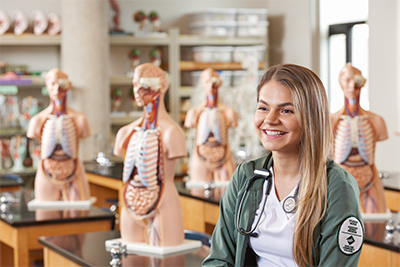 e quality of the OCC faculty is impeccable. They've done their vetting and it shows," said Pancevska.
"A lot of times when you're taught in theory. It's based on a textbook and all lessons and tests are based off of it."
But, she says, OCC is different.
OCC nursing instructors are both trained and experienced practitioners with backgrounds in all different areas of nursing. According to Pancevska, they understand that a combination of textbook teaching, hands on learning, experienced insight and different outlooks on care are the best way to share knowledge and teach students.
How do students know? Last year, OCC nursing student licensing pass rate was 95%, solid proof the teaching style of OCC's nursing faculty is effective.
"From clinical instructors to lab instructors to theory lectures to everything, they're experienced, they know the material and they know how to present it to you in a manner that you're going to understand," said Pancevska. "And ultimately in a manner that you're going to remember because nursing's not a field that you can just learn it to pass a test. No, you learn it to save lives."
To hear more about Pancevska's story, visit OCC's Youtube.
About OCC - With multi campus system in Oakland County, OCC is Michigan's number one transfer institution, offering nearly 100 excellent degrees and certificates. The College empowers academic and developmental experiences, allowing students to reach their full potential and enhance the communities they serve. More than a million students have enrolled in the College since it opened in 1965. Learn more at oaklandcc.edu.
###
Media Contact: Marketing & Community Relations | 248.341.2020 | contactus@oaklandcc.edu