OAKLAND COUNTY, Michigan – Culinary student Brandon Ashburn's dream of becoming an Executive Chef and restaurateur, was just that until he became a Garden Party Foundation scholarship recipient.
The Garden Party Foundation has always been a strong supporter of OCC students and their gift of $116,000 this year will help so many more students like Brandon achieve their educational goals.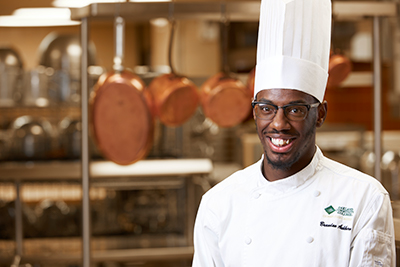 "Culinary school has been a long journey for me but I refuse to give up. I really appreciate that people are willing to help other people achieve a higher education," said Brandon.
These scholarship dollars benefit OCC's professional trade programs, including the college's Culinary Studies Institute, collision auto repair, HVAC/R systems technology, robotics/automated systems technology, welding technology, automobile servicing, criminal justice, electrical trades, fire fighter technology, and machine tool technology.
Brandon is currently working at Selden Standard while moving closer towards receiving his Associates in Applied Science degree with a major in Culinary Arts.
If you'd like to support OCC's students, the Foundation's 11th annual Garden Party event will be held at Meadow Brook Hall June 9, 2019. For more information visit The Garden Party Foundation website.
About OCC - With multi campus system in Oakland County, OCC is Michigan's number one transfer institution, offering nearly 100 excellent degrees and certificates. The College empowers academic and developmental experiences, allowing students to reach their full potential and enhance the communities they serve. More than a million students have enrolled in the College since it opened in 1965. Learn more at oaklandcc.edu.
About The Garden Party Foundation - The Garden Party Foundation was founded by Sydney L. Ross and his wife, Elizabeth. The Garden Party event was initiated and is maintained by The J. Lewis Cooper family and Elizabeth and Sydney L. Ross Foundation. The purpose of The Garden Party is to create a pleasant Sunday afternoon that is pleasing to the eye, the palate, and for its charitable aspect – pleasing to the soul. The Garden Party Foundation's mission is to support multiple local charities and use money raised to support Michigan causes. The foundation also aims to make The Garden Party the finest and most prominent food and wine event in the state. The Garden Party Foundation can be reached at 313.852.3951 or by visiting www.thegardenpartymichigan.org.
###
Media Contact: Marketing & Community Relations | 248.341.2020 | contactus@oaklandcc.edu