OAKLAND COUNTY, Michigan – Samantha Southern has an empowering message for college-bound students.
"Apply for all kinds of scholarships and graduate college debt free like I'm doing," said Southern, 19, of Clarkston, Mich. "Many college scholarships go unused because most students do not bother to apply for them. Especially apply for scholarships that require an essay. Most students don't want to put in the time to write essays, so your chances of winning are higher. Apply even if you think you won't get them."
Southern, who graduated from Brandon High School in Ortonville, Mich., started at Oakland Community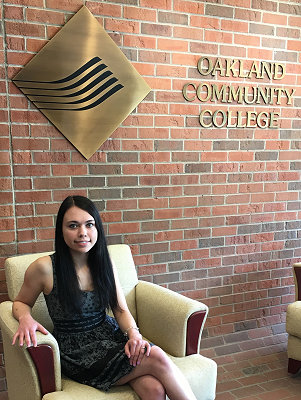 College in August 2016. She applied and earned $7,150 through five scholarships at OCC and two from the Phi Theta Kappa Honors Society on campus:
OCC Chancellor's Scholarship: $2,500
Second Year Scholarship: $1,250
OCC Association of Retired Personnel: $500
Susan and Dennis Fiems Textbook: $400
Arleen Quigley Scholarship: $250
New Chance Scholarship: $1,000
New Century Workforce Pathway: $1,250
The latest scholarship Southern has acquired from Phi Theta Kappa is the New Century Workforce Pathway. Her selection was based on the score she received in the All-USA Academic Team competition, for which more than 2,000 applications were received this past fall scholarship cycle. Southern was the top scoring student from Michigan. Her hard work and academic achievement has led her to be named Michigan's inaugural 2018 New Century Workforce Pathway Scholar. "I am so honored to have received this scholarship and it has put me one step closer to my goal of graduating debt free" she said.
By earning scholarships to pay for college, Southern does not need to work as much to make money as other college students, so she can spend the extra time on her studies and volunteer work.
"Focus on your education now and it will pay for itself, rather than working to pay off your education later in life," she said. "This way, you will get better grades and enjoy college more."
At OCC, Southern enjoys participating in student organizations, volunteering to vaccinate children in developing nations, making friends and, of course, saving money. "I live modestly and work a little to save money for the future," she said.
Southern expects to graduate from OCC in December 2020 with a RN degree and then transfer to Oakland University, where she will pursue a BSN degree. Her dream is to become a pediatric nurse practitioner, work at Children's Hospital in Detroit and travel on medical missions to help children in developing nations.
"I do what I can to help others," she said. "My dreams are high and I live life to the fullest. I am having the best time at OCC and will graduate debt free."
About OCC - With multi campus system in Oakland County, OCC is Michigan's number one transfer institution, offering nearly 100 excellent degrees and certificates. The College empowers academic and developmental experiences, allowing students to reach their full potential and enhance the communities they serve. More than a million students have enrolled in the College since it opened in 1965. Learn more at oaklandcc.edu.
###
Media Contact: Marketing & Community Relations | 248.341.2020 | contactus@oaklandcc.edu