OAKLAND COUNTY, Michigan — OCC dental hygiene students placed first at the "It's Hygienic Michigan" competition at Wayne County Community College in Detroit, Michigan, on March 30, 2019.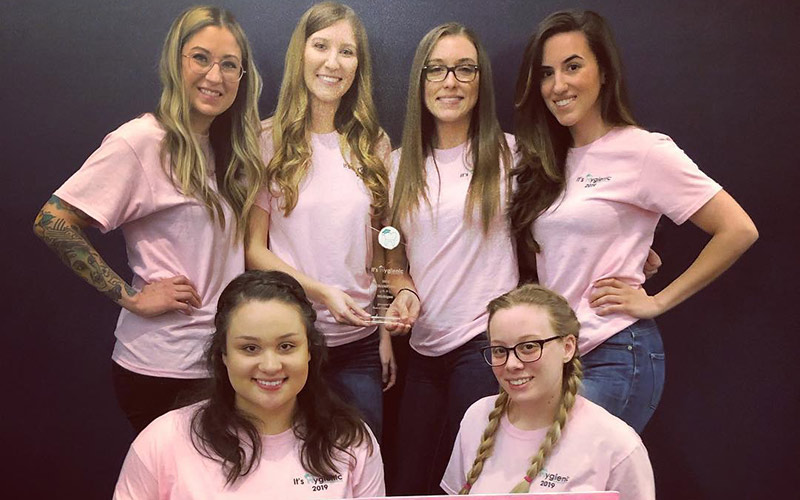 The competition is a fun way to prepare students for Board exams after graduation.
"These tests are hard, so we try to look for different ways to prepare them," said OCC dental hygiene faculty Renee Fox.
"They've gone through a rigorous program already, so this is a more of a fun way for students to study."
"It's Hygienic" is played by up to eight teams of six students each, and the tournament is composed of five rounds. The OCC student team included: Kristin Becker, Ana Fahr, Emily Lucier, Erika Mitchell, Rachel Scrimger, and Viki Ulic.
"This particular group of students are all real go-getters and I'm so proud of them," said Fox.
The "It's Hygienic" Board Games were created by two dental instructors. Their passion for the profession of dental hygiene education lead them to create this innovative competition to challenge students' knowledge, while providing a fun and team building environment.
If you are interested in learning more about OCC's dental hygienist program, check out the dental hygiene webpage for more information.
About OCC
With multi campus system in Oakland County, OCC is Michigan's No. 1 transfer institution, offering nearly 100 degrees and certificates. The College empowers academic and developmental experiences, allowing students to reach their potential and enhance their communities. More than 1 million students have enrolled in the college since it opened in 1965. A seven-person Board of Trustees governs OCC. Board members are elected on a non-partisan, at-large basis, serve as volunteers and are not paid. Mission statement: OCC is committed to empowering our students to succeed and advancing our community. Learn more at oaklandcc.edu.
###
Media Contact: Marketing & Communications | 248.341.2020 | contactus@oaklandcc.edu