When describing her former profession as a firefighter, OCC student Amy Mackie speaks with pride and love. As the only female firefighter for Auburn Hills during the eight years she worked there, her main regret was that she had to walk away.
Mackie is a former athlete who has dealt with approximately 20 knee surgeries and her duties as a firefighter took their toll, making it difficult to continue in that profession.
"I regret leaving because my passion is to help people," Mackie said.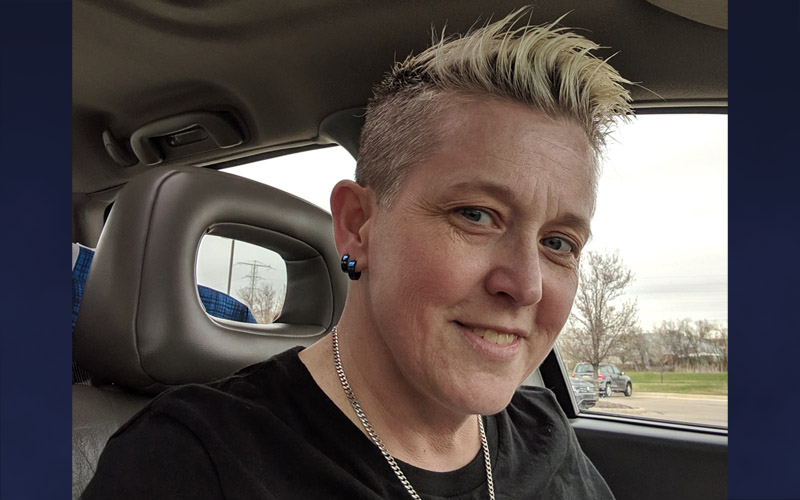 She worked in retail for several years but decided to return to school in 2021 when she became eligible for tuition-free college through Michigan's "Futures for Frontliners" program for workers on the front lines during the pandemic.
Coming to the rescue during one of her first college English classes
As Mackie was getting settled in her OCC English class, little did she know her rescue training skills would be needed.
"As I was sitting in class, I looked behind me and a student had blood in his hands and shirt," she recalled.
Initially she hesitated for a moment, given Covid-19 safety concerns and whether she would be at risk of potentially spreading the virus to her family. However, she quickly sprang into action using her training as a medical responder to take the student's vital signs and assist until OCC campus police arrived for help.
The student did not return to class, but she was hopeful that he was not in medical danger.
"As a firefighter and frontline medical responder, we often help those in need initially, but do not hear back if the person recovered from their medical situation. I often think about what happens after that initial response."
Another rescue opportunity during her last English class of the semester
Mackie also used her medical response training a second time during her last day of that same English class.
"During my last day of class with professor Dr. Brandon Anderson, another student had a medical emergency and was convulsing with a seizure."
Once again, Mackie came to the rescue with help from Anderson. Together, they comforted the student, moved the classmate's face sideways to avoid choking, and took vital signs. A campus safety officer came again and noticed Mackie was helping a second time and said perhaps she should consider joining the department.
Anderson shared he has experienced a handful of medical situations in the classroom over the years.
"It's always a stressful scenario for the instructor because you want to make sure you're acting quickly, doing the right thing in terms of getting the student the help they need right away, and also not alarming other students in the class," Anderson said.
With both situations occurring during the Tuesday night class, he felt extremely fortunate to have Mackie in his classroom. Her help allowed him to immediately call campus police and have the necessary personnel come in quickly for assistance.
"Thanks to her experience, skill set and compassion for helping others, Amy was able to provide aid to the student in need," said Anderson. "In both situations, the students got the help they needed, and we were able to maintain a calm classroom environment. I'm grateful for Amy's knowledge, alertness and bravery she provided in both situations."
Mackie is taking classes at OCC to possibly pursue a career in computer-aided design and manufacturing. Although she does not know where her future professional career will take her, she said one thing is certain.
"I was meant to wear a uniform and I hope with everything in me that I get to again someday soon, because I believe I was put upon this earth to help people in some way."
For more information about OCC's Futures for Frontliners program, visit https://www.oaklandcc.edu/futures4frontliners/, email future4frontliners@oaklandcc.edu or call 248.341.2280.
About OCC
Offering nearly 100 degrees and certificates, OCC is Michigan's largest multi-campus community college and No. 1 transfer institution in the state. The College provides academic, career training and enriching experiences, designed to empower students to reach their potential and enhance our community. More than 1 million students have enrolled in the College since it opened in 1965. A seven-person Board of Trustees governs OCC. Board members are elected on a non-partisan, at-large basis, serve as volunteers and are not paid. Mission statement: OCC is committed to empowering our students to succeed and advancing our community. Learn more at oaklandcc.edu.
###
Media Contact: OCC Marketing & Communications | 248.341.2020 | contactus@oaklandcc.edu