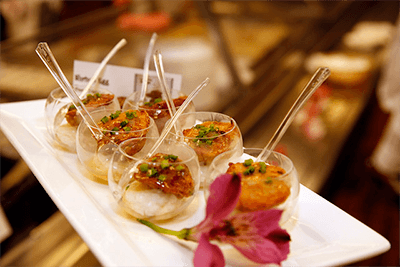 OAKLAND COUNTY, Michigan – If you like amazing food, prepared with skill and dedication, you're in for a treat. Oakland Community College's (OCC) award-winning Culinary Studies Institute continues its lineup of events open to the community. Join the college's aspiring chefs for an incredible dining experience and enjoy the best in food and service. Events and dining are at OCC's Orchard Ridge Campus, 27055 Orchard Lake Road, Farmington Hills. More information and tickets available on the Culinary Special Events webpage.
Special Event Dinners
America Coast to Coast Dinner, Oct. 11, 2018, 6 p.m.: Join us for a celebration of Americas' finest cuisine and libations. In your pursuit of happiness let us dazzle you with our hand crafted signature cocktails, wine, and beer accompanied by complementary appetizers before dinner service. Price is $55 per person. Signature drinks available for purchase.
The Great Gatsby's Holiday Affair, Dec. 13, 2018, 6 p.m.: Come join us for a lavish five course soirée featuring a cocktail hour of signature giggle water, beer, and wine as well as complimentary passed hors d' oeuvres. We are honored to feature the acclaimed OCC Community Jazz Band who will play the sounds of the era. Bring your air tight Gatsby get-up or flapper dress and win a prize to guarantee a roaring good time. Price is $65 per person. Signature drinks for purchase.
Lunch Buffets & High Tea
Back to School Buffet, Sept. 20, 2018 11:15 a.m. – 1 p.m.: Get your rulers and number two pencils out. Fall is right around the corner and to showcase this time of year the students and staff of the Culinary Studies Institute are offering a refined and exciting lunch buffet. Price is $13/person and Reservations for groups of 8 or more are required.
Late Fall Harvest Buffet, Nov. 8, 2018, 11:15 a.m. - 1 p.m.: Embrace the changing colors and weather with our afternoon of epicurean delights. Come hungry and make yourself at home with our self-serve beverage station and fabulous décor. Our Buffet and Banquet class will dazzle you with the season's freshest farmers-market fare. Price is $13 per person; cash bar is available. Reservations for groups of eight or more are required.
High Tea in Reflections, Sept. 20, 2018, 11:15 a.m. to 1 p.m. A five-course lunch is included with accompanying traditional tea service. Ladies are encouraged to wear a fabulous hat! High Tea tickets are priced at $27 and sold at the culinary office. Advance purchase is required.
Dine with us at the Orchard Ridge (Farmington Hills) campus.
The Ridgewood Café – Menu items are freshly prepared from scratch and change daily offering salads, sandwiches, entrées and desserts. Guests are invited to dine in with service or use the cafeteria and help themselves. The café is open 11:15 a.m. to 1 p.m., most Tuesdays and Wednesdays, Sept. 4 through Dec. 5. *The Ridgewood Cafe is closed Oct. 16-17 and Nov. 20-21.
Reflections Restaurant – The restaurant's Prix Fixe $16 menu features a four-course meal with three entrées to select from that change weekly. Reservations are required. Wine and beer are available. The restaurant is open Thursdays, 11:15 a.m. to 1 p.m. Sept. 6 through Dec. 6. *The Reflections Restaurant is closed September 27 and October 18.
The Bakery is open Wednesdays, 11 a.m. to 1 p.m., on the third floor of J Building. Buy breads, cakes, candies, cookies and chocolates. *A special bakery sale is being held on Dec. 13 from 5 p.m. to 9 p.m.
About the OCC Culinary Studies Institute - OCC's Culinary Studies Institute is Michigan's premier hospitality school. The largest of the institute's programs, Culinary Arts, gives students a combination of classroom and hands-on experience. In addition to extensive time in kitchen labs cooking and baking, specialties such as ice carving and wine and spirits are offered. Students participate in events such as the annual Wassail Feast at the student-run Ridgewood Café, a restaurant on the Orchard Ridge Campus.
About OCC - With multi campus system in Oakland County, OCC is Michigan's number one transfer institution, offering nearly 100 excellent degrees and certificates. The College empowers academic and developmental experiences, allowing students to reach their full potential and enhance the communities they serve. More than a million students have enrolled in the College since it opened in 1965. Learn more at oaklandcc.edu. Learn more at oaklandcc.edu.

###
Media Contact: Marketing & Community Relations | 248.341.2020 | contactus@oaklandcc.edu